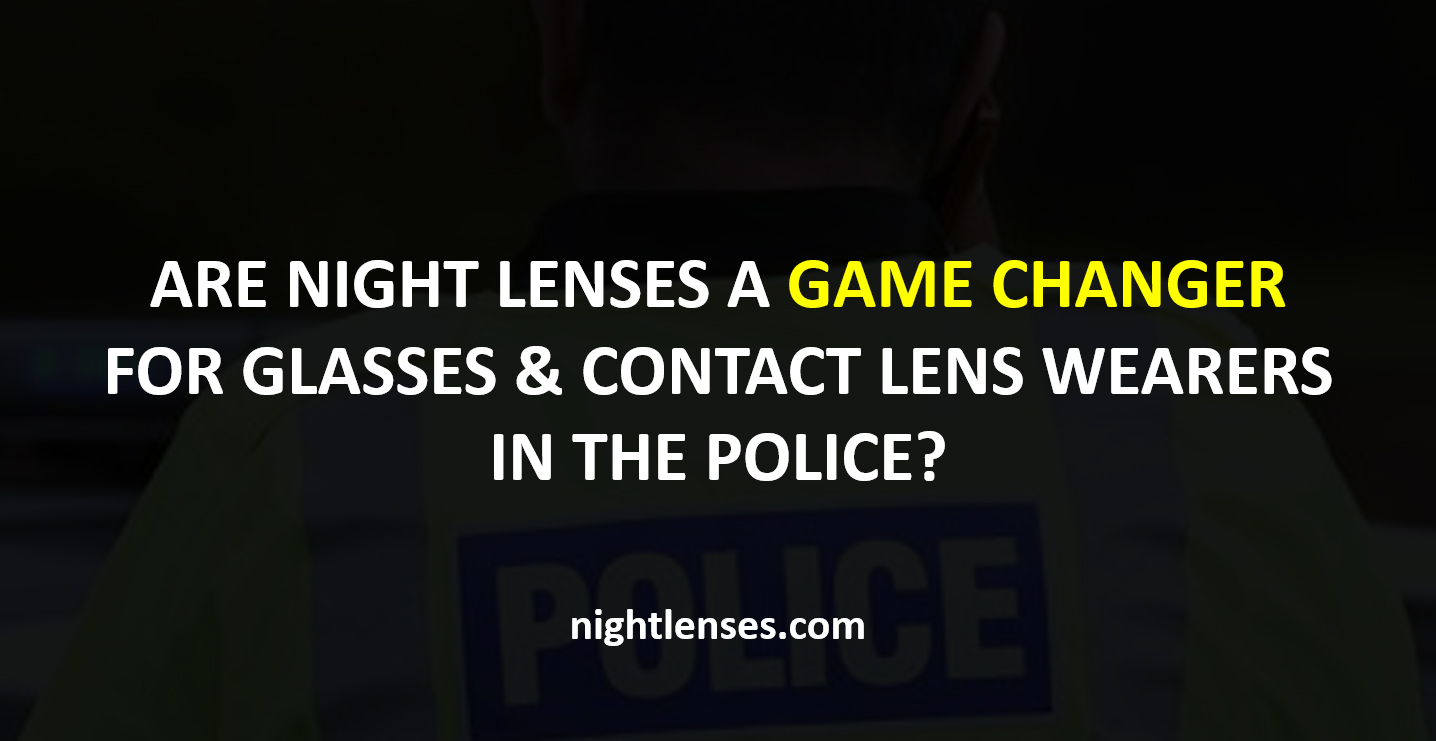 Are NIGHT LENSES a game changer for contact lenses & specs wearers in the Police?
GLASSES vs CONTACT LENSES vs LASER EYE SURGERY
For many short-sighted police officers in operational roles the choice between glasses and contact lenses is a no-brainer. In violent, wet, steamy or enclosed situations glasses can easily be knocked off, broken or made ineffective by steam, water, grease or anything else that chooses to coat the lens at precisely the wrong moment. As for PPE fog on your specs? A modern frustration.
It's easy to see why contact lenses are the obvious alternative, or for many the only alternative, as the fear of laser eye surgery going wrong or the financial outlay can make Lasik a non option.
IN WORK: As most contact lens wearing officers know, day lenses come with their own problems – they can be dislodged in a violent situation or affected by PAVA (putting you at risk), they dry out and itch at the end of long shifts (affecting your focus and state of alert), they irritate easily with loft dust during searches, sawdust, grit, sand and airbourne irritants (affecting your ability to carry out your role) and you need specialist equipment to be able to wear a CBRN suit.
OUT OF WORK: they can fall out when you exercise hard or play sport, you need precription goggles for swimming, they can get infected in hot tubs, they limit spontaneous beach and pool activities on holiday and you constantly have to think about what you can or can't do throughout the day.
But there's no alternative right?
Wrong!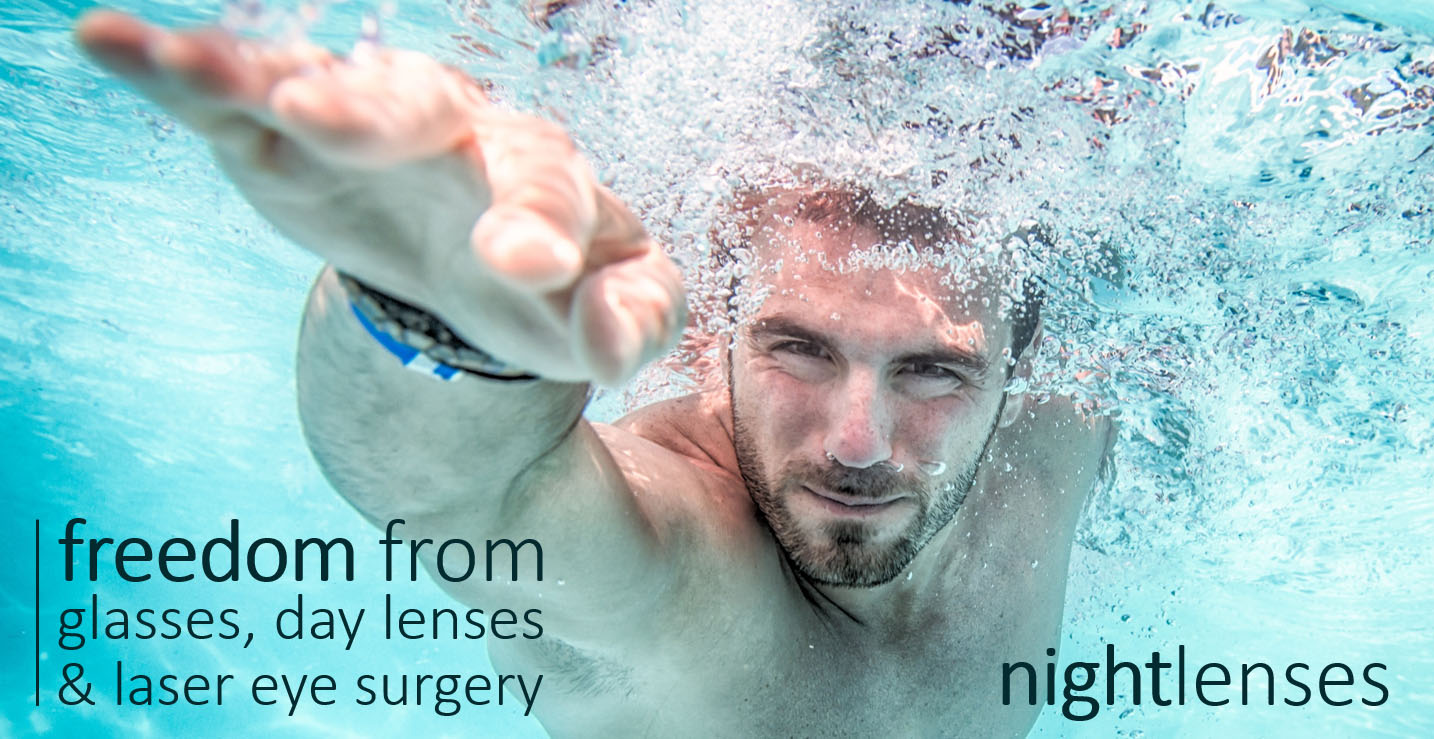 NIGHT LENSES: A MODERN ALTERNATIVE TO GLASSES, DAY LENSES & LASER SURGERY
NIGHT LENSES are contact lenses, custom made to your eye, that correct short sight while you sleep. Simply wake, remove and have perfect vision all day. No need for glasses or contact lenses during the day, or laser eye surgery later on. The future of eyecare is to see normally, with nothing in your eye or on your face, without surgery. The future is here.
The science behind it is a process called Orthokeratology. Medically they are known as 'Ortho-K' lenses and have been around for about 20 years now. Every night, as you sleep, the outer cell layer of your cornea naturally sheds (just like your skin). The new outer cell layer moulds into the lens, giving you a cornea shape when you take it off in the morning that enables the light to focus naturally and properly, and you to see perfectly. It's a harmless, non permanent process, simply repeat every night [CLICK HERE to see a 1 min demo of how they work].
No lens in your eye to dislodge during altercations, no issues with PAVA, dust, grit etc, open your eyes underwater or in the shower, no dry or itchy eyes from long shifts – do an intense, sweaty HIIT class or workout, jump into the suana, then the jacuzzi and shower off without a thought – have your face rubbed into the mud on the rugby field, swim freely, roll around on the beach with the kids and then spontaneously jump into the sea.
Be normal.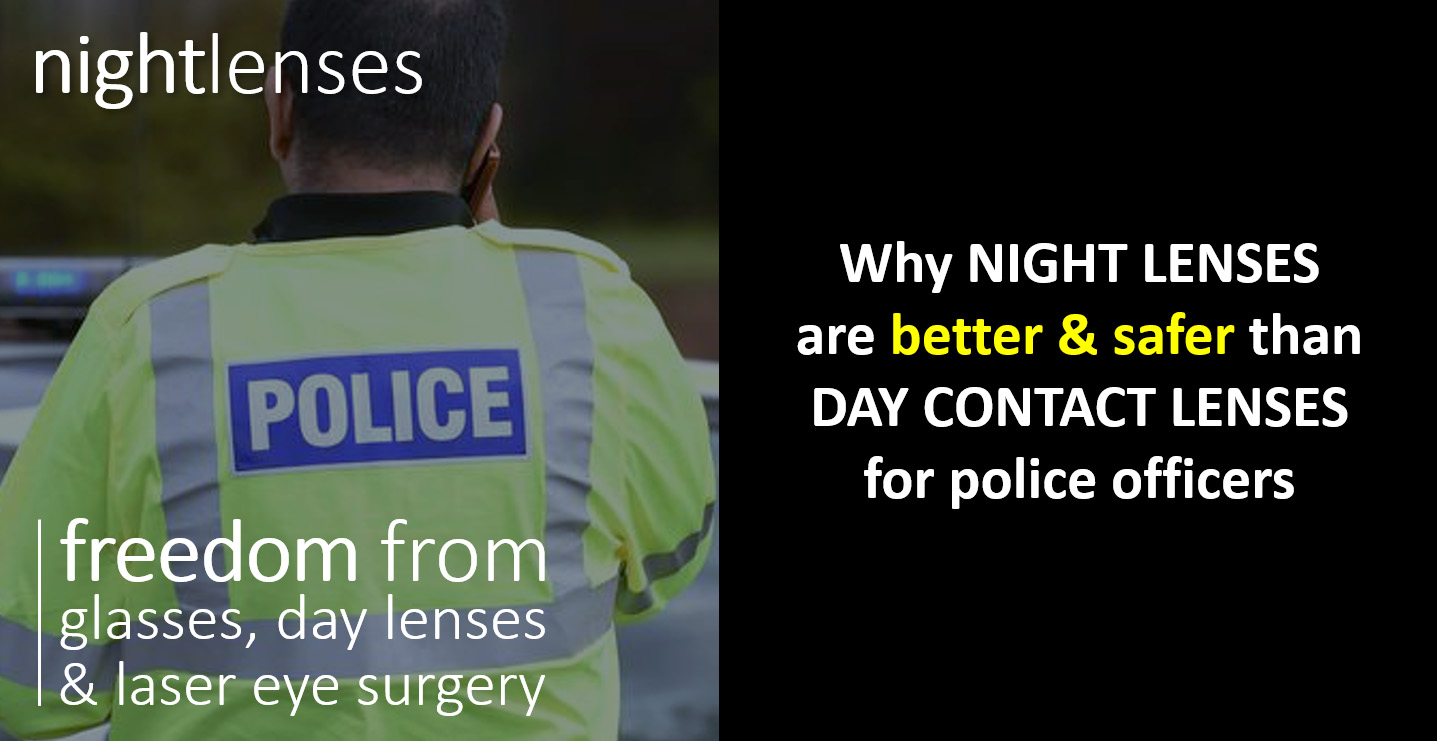 NIGHT LENSES & THE POLICE: A BETTER & SAFER ALTERNATIVE TO DAY LENSES?
Below are 3 interviews we did with police officers who use night lenses, to give their colleagues who wear day lenses and specs an idea of what it's about:
'John' was with TSG in Belfast. CLICK HERE for "John's" story: glasses > contacts > night lenses
'Jasmine' is in a specialist role in The Met. CLICK HERE for "Jasmine's" story: glasses > contacts > laser (lasted 15 years) > night lenses
"Sarge" – is a Sergeant in Birmingham's City Centre police team. CLICK HERE for Sarge's story: contacts > night lenses
John & Jasmine are anonymous because of their roles and Sarge was also keen to stay anonymous. All 3 agree that, in their view, night lenses are better and safer for short-sighted police officers (under -6D) than day contact lenses and glasses.
FAQ – QUICK FIRE
Cost: equivalent to day lenses
Environmental: just 2 lenses to landfill per year (yay!) vs 720+ day lenses (boo!)
Health & safety: no issues as nothing in your eyes and the effect can last up to 48 hours without top up
Cost to the force (supplement): equivalent to day lenses, but no extra spend on CBRN addition for contact lens wearers
New and unproven? Been around for 20 years. 2003: first UK CE device. Huge in Netherlands and other countries. Recent UK growth
Can kids use them? Yes. They can control myopia & cut future risks of eye disease. WATCH: Rhys age 8 see for the first time without specs
Does my optician do them? Many do – ask your optician about night lenses or find a fitter below
Find your nearest night lens fitter