Night Lenses – Wild Swimming
No Contact Lenses – No Glasses – No Laser Surgery
Perfect vision for short sighted Wild Swimmers – without glasses, day contact lenses or laser eye surgery
If you're a wild swimmer and you wear glasses or daytime lenses, then night lenses are the life changing innovation that will make a massive difference to your life. Imagine swimming in the sea / river / lough and not having to worry about losing your lens or having to wear prescription goggles.
Imagine having perfect sight so you can enjoy the natural beauty around you, get splashy and even open your eyes underwater. Don't just take our word for it – we joined night lens wearer Natalie (below) fresh out of the water from a wild swim in a Scottish lough – hear her story.
Night lenses are a contact lens that you pop in at night before you go to sleep and you wake up in the morning to perfect sight. The eyecare innovation everyone is talking about.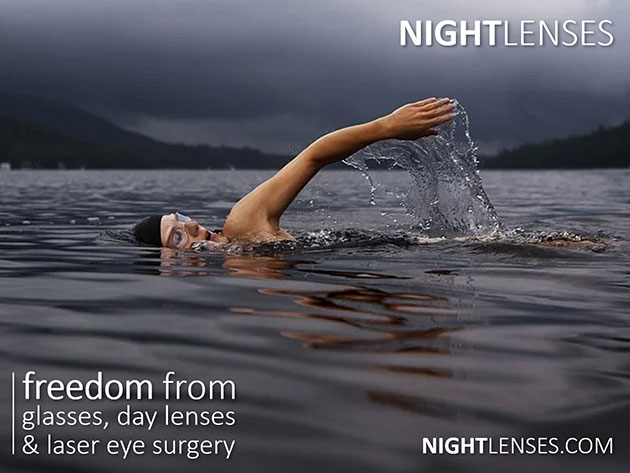 No need for glasses or daytime lenses during the day or laser surgery.
Complete freedom to swim in the wild, nothing hold you back – the future of eyecare is to have nothing on your face or in your eyes …
Join the night lens revolution.
Free your eyes.
"I've always loved watersports but it was always a faff as contact lenses and glasses didn't work. But now I wear my lenses at night, take them out, get in the water, get as splashy as I like and have perfect natural vision for these amazing views. If you're a fan of the outdoors and watersports, there really isn't anything like it"
Natalie, Wild Swimmer.
Free your eyes with NIGHTLENSES – perfect for all sports
Find your nearest night lens fitter