Contact lenses for SUP Paddleboarding
SUP Paddleboarding is the big thing that everyone seems to be into. I've got mine and, now I've got over the wobbles and can stay on the damn thing, I'm having a go at surfing waves on it. Harder than it looks right? Quick tip – don't learn to surf on small waves in shallow water. You'll break your neck! Yup, learnt that the hard way. Anyway, it's a new watersport I love and I'm sure you do too.
If you wear glasses or daytime lenses, imagine a paddleboard session where you don't have to close your eyes when you fall into the water or have to wear prescription goggles or nothing at all? With night lenses you pop them in at night when you go to sleep, take them out first thing in the morning and go about your day with perfect sight without the need for glasses or day lenses during the day. Complete freedom for when you go paddleboarding – nothing on your face or in your eyes – fall in and open your eyes underwater, toddle along the surface on the sea / lake / lough / river / reservoir getting splashy being able to see the landscape and people around you. No glasses to store, lenses to watch. No need for laser surgery at a later date. Compl;ete freedom!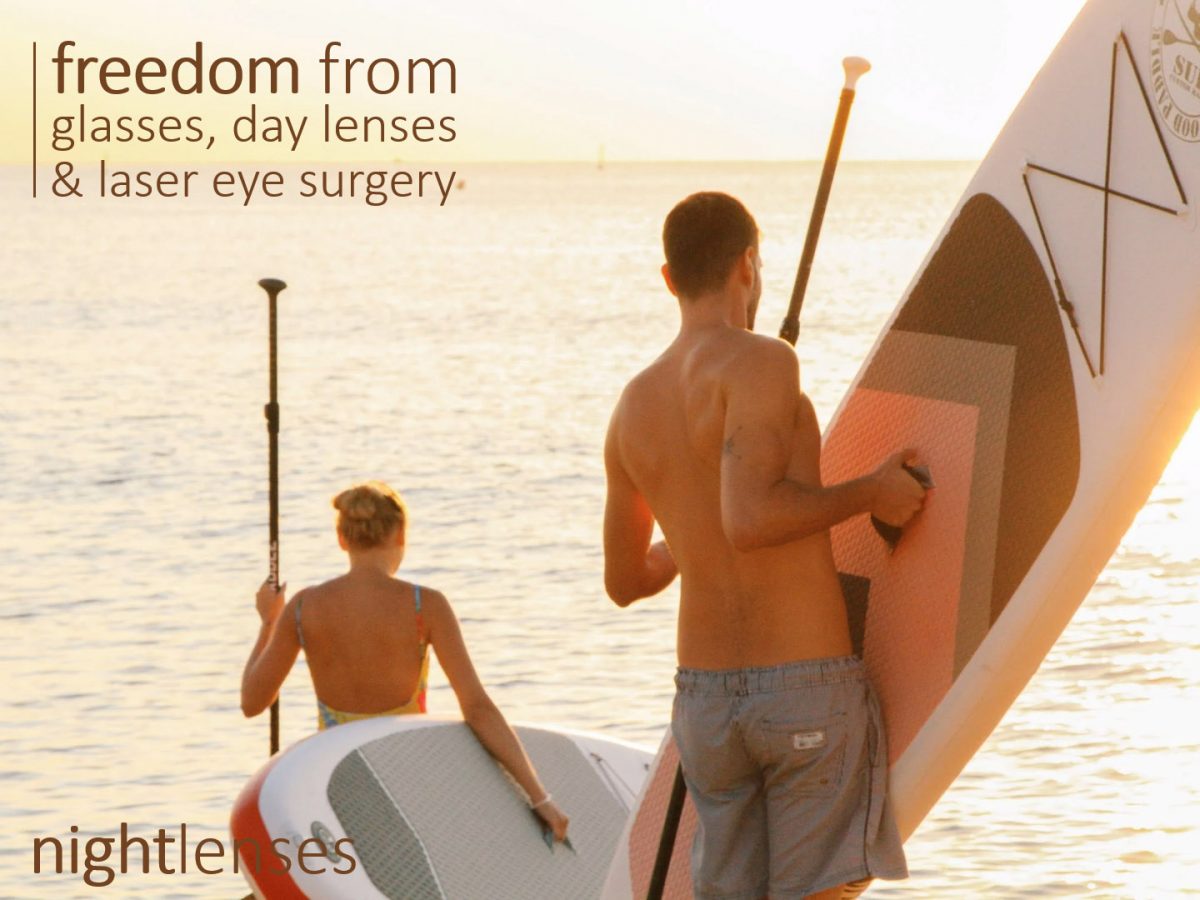 Night lenses changed my life | Niki | Student nurse, paddleboarder
Niki is a student nurse from the Outer Hebrides. Living in such a beautiful part of the world she loves the great outdoors. She kindly sent us a selfie vid when she was out paddleboarding to check in and say how her night lenses have changed her life. She no longer has the faff of having to take her glasses off or putting prescription goggles on to paddleboard or swim. And if she accidentally falls in, there's no urgent rush to close her eyes for fear of losing a lens and being stuck out there not being able to see. With nothing in her eyes or on her face all Niki needs to do is look around and enjoy the view!
Find your nearest night lens fitter